Volunteer Opportunity: Jar of Hope Assembly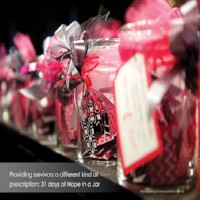 Project Pink'd provided over 400 Jars of Hope to breast cancer survivors in our community in 2017. We have set our sights on 1000 in 2018!!
Volunteers will assemble each jar, filling each Jar of Hope with 31 inspirational messages (pre-printed) and decorating the outside with ribbon and tags.