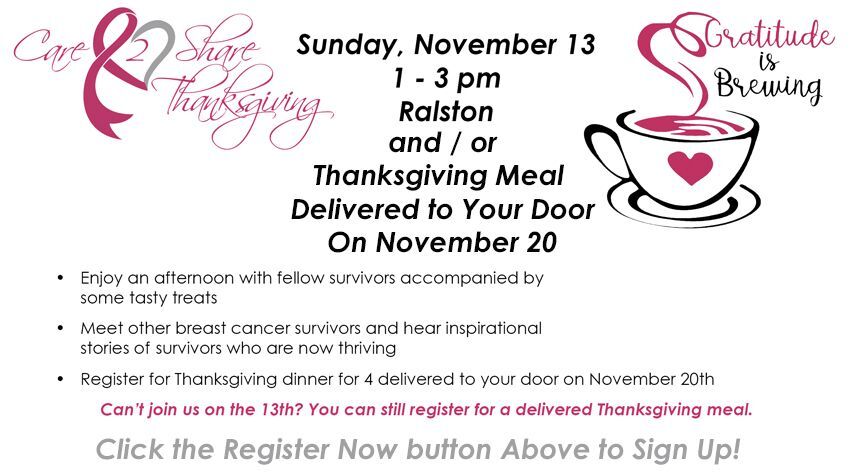 Care To Share Thanksgiving
At Project Pink'd, we believe there is ALWAYS something to be thankful for.  
Our Care to Share Thanksgiving program is a long-standing tradition at Project Pink'd, providing survivors an opportunity to connect with other survivors and give thanks for all of our many blessings. You must be a breast cancer survivor to attend the in-person event.    
This program and the Thanksgiving meal for four are complimentary to breast cancer survivors in NE & Western IA and is made possible by our many generous donors.
---
Join us Sunday, November 13 from 1-3p for an afternoon full of survivorship, games & gratitude!
The next Sunday, November 20th, you will receive your Thanksgiving meal for your family on your doorstep. 
---
Learn More About the Impact Care to Share Thanksgiving Has on Breast Cancer Survivors
---
What Survivors are Saying About Care to Share Thanksgiving
"Project Pink'd made a difference for me! It was so helpful to hear from the women who have walked this path. My next round of chemo is Tue before Thanksgiving. I️ wasn't cooking turkey for my kids, now I️ can. Thank you" | Sharon 
_________________________________
"Thank you so much for hosting this wonderful event! I had a great time, it was so uplifting. The food was super and the volunteers were "super-er". Thank you also for providing our Thanksgiving dinner. I very much look forward to volunteering myself next year. Again, Thank you" | Bonnie  
_________________________________
"I just want to comment on how awesome & uplifting this event was. You have a great organization supporting good attitudes in dealing with breast cancer. I appreciate all the wonderful work you do. This group is a blessing to many. Thank you!!"  | Betty
---