Meet Carrie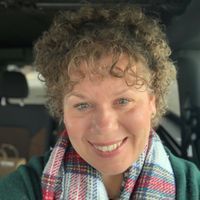 "Hope and fear cannot reside in the same place, invite one to stay" ~Maya Angelou
Hello! My name is Carrie. To be honest, my breasts were always a "spot of worry" for me. At 19 years old, I had multiple fibroadenomas removed from my breasts (one the size of a lemon and multiple ones the size of golfballs). After that, each time I had a breast exam it was like anxiety was tapping me on the shoulder and in a sinister voice saying "I'm here again- MUHAHAH!" Years of a wash and repeat cycle began for me almost thirty years ago. What I call the MUB cycle, (M)ammograms that turn into (U)ltra sounds and ultrasounds that turn into (B)iopsies. Only to find at the end of that year's MUB cycle- "it's nothing"! Even though I left the doctor's office breathing a little easier many times, I always wondered and worried that something could change. I spent years wondering if each lump and ache was something more-I was petrified of my own breasts!

I hadn't missed a mammogram in more than five years but a few months after my last mammogram I had pain (not uncommon for me) and noticed some dimpling (very uncommon for me) in my right breast. The "MUB" cycle started again- and this time the results WERE different. On my son's 26th birthday, I heard the gentle voice of my surgeon say, "You have breast cancer, and we are going to figure this out". Given the fear I had lived with for so long it only took me a matter of hours of being diagnosed to make the decision to have a double mastectomy. Within a few weeks after that I found out that I had no genetic disposition to breast cancer, I was Estrogen and Progesterone positive, HER2 negative, AND my breast cancer was identified as being Lobular.

Maya Angelou's words helped ground my thoughts since the initial diagnosis, "Hope and fear cannot reside in the same place, invite one to stay". I invited hope to stay, even when fear was an easier choice. With the support of thoughtful and loving family, friends, and co-workers and the support, care, and guidance of an amazing team- breast cancer "sisters"/mentors, gynecologist, general practitioner, surgeon, oncologist, reconstructive doctor, hairstylist, radiologist, counselor, nutritionist, Project Pink'd, and teams of the absolute best nurses, techs, and support staff, WE successfully navigated a double mastectomy, multiple rounds of chemotherapy, and even more rounds of radiation.

Almost two years later I still continue to invite hope to stay each and every day! I'm thankful to share that this month I will turn 50 years old. I didn't think I would get to celebrate my 50th birthday or any other special memories that happened along the way. As I continue to heal each day is like a birthday gift to me- another day I get to be here with the people I love the most and another day that I get to try to be the best me I can be and live my purpose- "give, grace, grow, and gratitude".