Meet Jeanette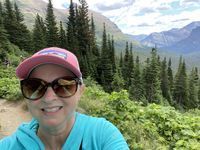 The words you never want to hear....."You have cancer"
My name is Jeanette Moeller and I was diagnosed with Stage 2 invasive ductal carcinoma on June 15, 2018, at the age of 44. I found the lump myself doing a self-breast exam. Doing that self-breast exam saved my life and I encourage all women to perform regular self-breast exams. I opted to have a double mastectomy and endured 16 rounds of chemo before having my final surgery to finish my reconstruction.

My cancer journey opened my eyes to a whole new world of people battling this terrible disease. I will be forever grateful for the team of doctors, nurses and staff at Methodist and Nebraska Cancer Specialists who cared for me. For the outpouring of love and support from my family, friends, and co-workers who were there for me when I needed them most. And for Project Pink'd for giving me the tools, resources, and programs like the Dare to Thrive Retreat to help me learn how to thrive after cancer. I am excited about this program and I look forward to sharing more about my cancer journey in future posts. God Bless!