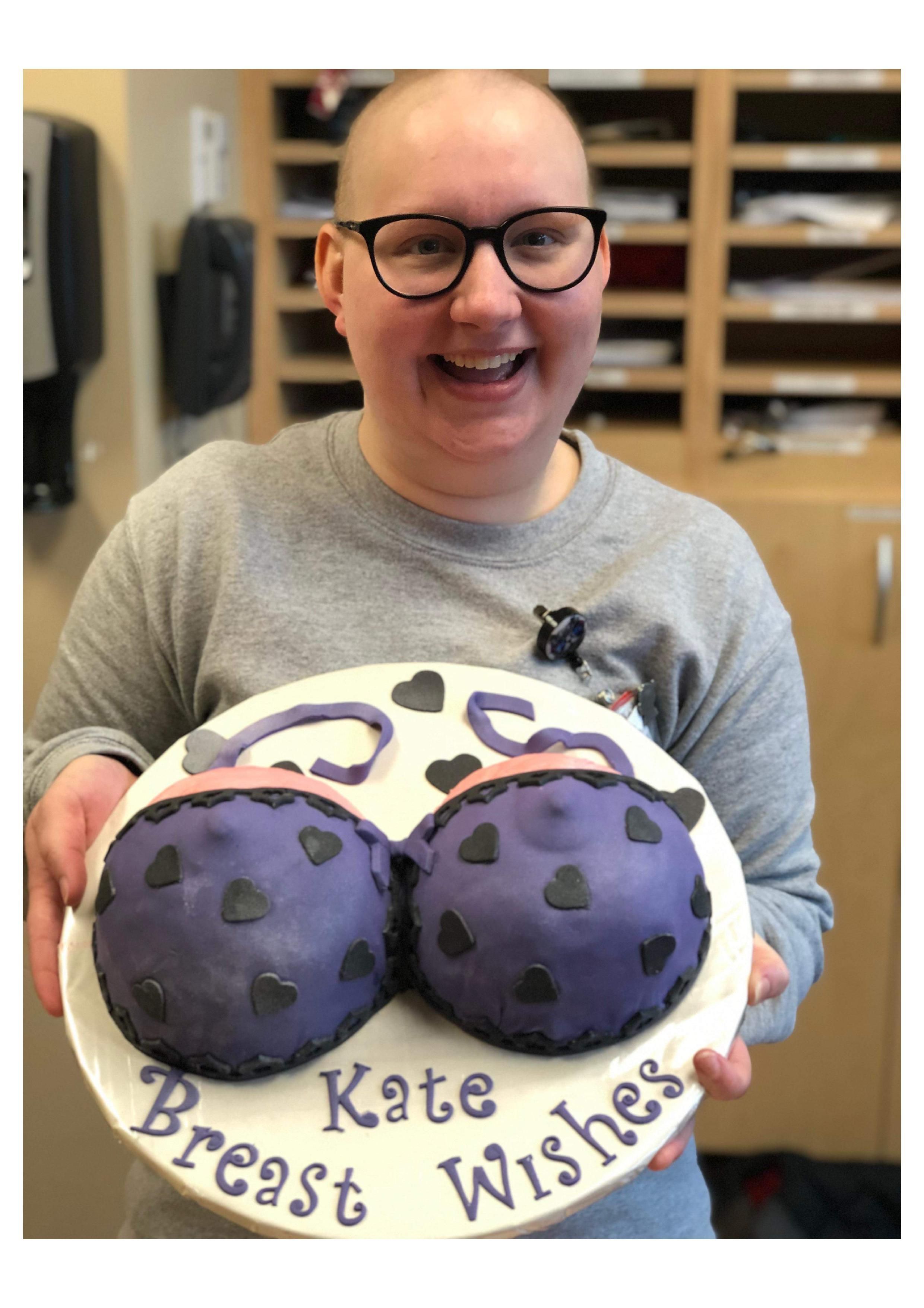 October 3rd, 2018 I sat alone, waiting in one of Dr. Maxwell's exam rooms, wearing a backward, oversized hospital gown wrapped around me like a bad kimono. Not like the cute, fashionable ones that were in style that summer or the beautiful ones in Japanese culture; but more like an ill-fitting, hideous article of clothing your grandparent got you that your mom forced you to wear on holidays so they could see you in it. The room was cold and I was shaking from nerves. The statement piece of clothing I described earlier was not offering any comfort or warmth and I was totally nipping, you know since I still had nipples at that point. After waiting for what seemed like forever, Dr. Maxwell and a student entered the room. I immediately felt comforted by her warm demeanor and tender smile. It's really a shame that such a sweet person has the job of dropping life-altering bombs on people. With an empathetic pain in her voice, she confirmed what I had known deep down, that lump I felt months earlier in the shower was cancer. I took a deep breath and proceeded to answer with a joke, "well I've always wanted a boob job." I cope with humor and don't like to show my emotions to people I don't know well. Based on her reaction, I think the student was concerned that I didn't understand Dr. Maxwell had just told me there was a gang of misfit cells that linked up and started hanging out behind my right nipple and could quite possibly kill me if not dealt with. I understood.

I guess I should give a little background of how I ended up in Dr. Maxwell's office in the first place. I had known in my gut since July when I felt the lump that it was not normal, but I convinced myself it was just changes from my menstrual cycle and to just keep an eye on it. Nurses are really good at telling other people how to take care of themselves and not as good at actually taking care of themselves. Anyway, after several glasses of sangria and about 3 months of keeping this lump a secret, the waterworks started and I told my mom about it. Two days later I was getting told I needed a biopsy after getting an exam and ultrasound. At 26 you don't think breast cancer is going to be on your to do list, but I guess my body likes to shake things up and throw in some cancer cells every couple of decades. I also had a Wilm's tumor which is a pediatric kidney cancer as a child.

Fast forward back to Dr. Maxwell's office. The results showed ERPR positive, HER2 negative, high grade, stage 2, invasive ductal adenocarcinoma; to which my nursing friends and I named Ida. And Ida needed to be evicted. The next few weeks were whirlwinds of appointments, labs, tests, information, and decisions. I met with my new group of "breasties"; my medical oncologist, surgical oncologist, radiation oncologist, plastic surgeon, genetics, and a fertility doctor. I'm a nurse and knew a lot of the information that was thrown at me, but I still felt like my head was spinning. Within one short month, I had my port placed, given myself countless injections in my stomach so I could try and harvest some eggs to freeze for the future, had an MRI, EKG/echocardiogram, and started my first round of chemotherapy. My medical oncologist, Dr. Tandra, is a little gem sent straight from heaven. He is one of the most genuine, smart, kind hearted men I've ever had the pleasure of knowing. So I guess I can thank cancer for bringing him into my life. Due to the chemotherapy, I had as a child, my treatment regimen had to be a little different than the typical protocol. I did Cytoxan and Taxotere together every 3 weeks for 6 rounds. I landed myself in the hospital with a Neutropenic fever for thanksgiving. Nothing says happy holidays like an ANC of 0 and a 104 fever! Thankfully after adding some Neulasta to my treatment plan, my counts didn't ever get that low again! I trudged through the treatments; battling fatigue, nausea, heartburn, constipation, mouth sores, severe bone pain, thrush and constant hives like it was my job, because what else could I do? I worked through my treatment because I knew I needed to for my mental health. Protecting my sense of independence (as much independence as I could muster) and having some sense of normalcy was so important to me. I safely gathered with friends, saw family, went to church, and attended a few events that I had planned before my diagnosis. I was wearing masks before they were mandated. I didn't want cancer to take everything from me. It was already taking my hair, my boobs, my immune system, and forcing me into menopause.

April 2019 I had a bilateral mastectomy with expanders placed for reconstruction later. Surgery recovery was harder mentally on me than chemo. I couldn't shower alone, I couldn't drive, I couldn't go to work for weeks because I had four drains in. I finally felt better than I had in months but I couldn't be independent due to lifting restrictions. I was T-Rex arming it everywhere and looked like an octopus with my drains hanging off my sides. But as with every trial, there is light at the end of the tunnel. I was able to have my drains removed and restrictions cleared eventually. My follow up appointment revealed I had no cancer in the lymph nodes and I was officially labeled "no evidence of disease"! To say I was ecstatic was an understatement. The need for radiation was ruled out as the risk outweighed the benefit since I didn't have cancer in the lymph nodes. Finally, I was going to be able to return to "normal", I thought. The months passed and I had my final reconstruction surgery in August. I started my regimen of a daily oral hormone blocker, monthly hormone blocking injections, and every 3 months follow ups with my medical oncologist.

Life was going to be smooth sailing again. Boy was that like saying 2020 was going to be a great year.. completely wrong! The thing that no one talks about with cancer is the aftermath. My body may have been physically improving but the really hard work was just starting; the healing of my mental health, the grieving of the pre-cancer Kate, and the metamorphosis of the new Kate. Learning to thrive and not just survive. Learning to accept the things I can't change. Learning to let go of the past and love the reflection staring back at myself in the mirror; scars, foobs aka fake boobs, weight gain, the curly mullet of an 80's heartthrob and all. That's where Project Pink'd have come in to play. In all seriousness, without the support, friendship, advice, empathy and understanding of these amazing women; I don't think I would be in a place of healing. I think I would be stuck in the vicious cycle of a post cancer patient's fears of reoccurrence, anxiety, depression, and lack of self confidence. I have days that are still so very hard, but I know I have a family of women that are waiting to pick me up. This unfortunate path has led me to be more appreciative of every day I'm given, grow closer to the Lord in my faith, strengthen my relationships with those I love most, and start to find myself again in the rubble along the way. I'm not 100% where I want to be at in loving myself and adjusting to my new normal but I'm a work in progress, and I'm proud of that for today.