Meet Tracy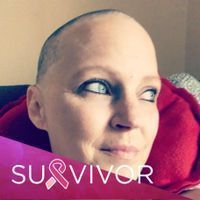 Hello! My name is Tracy Gloden, I am married with a 12 year old daughter. I was diagnosed in March of 2018 with stage 3 invasive ductal carcinoma. BRCA-. I did 20 rounds of chemo, 33 radiation sessions, and countless surgeries to fix the reconstruction after radiation. Followed by a complete hysterectomy, which sent me into menopause immediately. Throughout my journey; my family was there every single step of the way. I couldn't have done it without every single one of them. They really pushed me to keep going and take it day by day. I was also connected with different support groups, including Project Pink'D.

And I am happy to say here I am 4 years later, still taking it day by day, and trying to enjoy my life to the fullest!

I am so happy to have found this group, I thought I was going through this alone, and as much as I hate to say it, I'm glad I'm not alone in this journey! I am so happy to be connected to women that have so much in common with, and that we all connect on different levels. I'm especially excited to see everyone's transformation & how we grow together.