Meet Sue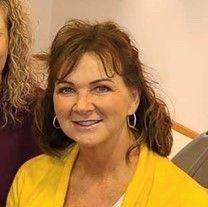 My name is Sue and I was diagnosed with Triple Negative Breast Cancer in July of 2019. I was 56 years old, the mom of 2 adult married children, I had just become a nana to my first grandbaby 4 months prior, and I was working as an RN.

Rewind to June of 2019 and I had just appeared before a judge in our small town courthouse to file for a divorce that would end a 31 year marriage. My life was already beginning to unravel!

I believe finding my Cancer was a "God thing". I had been noticing a pain in my mid-chest usually only when I was lying in bed at night and just convinced myself that it was stress and all the stuff I was going through. However, after canceling the first appointment with my OB-GYN Dr I rescheduled and went back a month later. She didn't feel anything and said she would have called this a normal exam but because of the pain "let's get a 3D mammogram" -that turned into an ultrasound and that turned into a biopsy and 6 days later I received the phone call that said "its the most aggressive but most responsive to treatment..... It's crazy how you can remember the dates of these events, what you were doing at the time, and when your normal came to an end. Appointments, 16 Rounds of Chemo, Double Mastectomy, Depression & Reconstruction became my Plan B.

Remember I said small town-word gets around about EVERYTHING there! The support I received was incredible. An acquaintance, who has now become a dear friend heard of my dx and messaged me about Project Pink'd. I had no idea what it was or what to expect, but it became a lifeline for me. I would lay in bed at night and scroll endlessly to read, look for answers, comment for support, or just have a distraction to my unsure future. Today, I still scroll thru for the same reasons only now I feel that I can help other women and be a sign of hope for them also.

I applied for the Dare to Thrive Retreat because I feel like I am on the bridge to the other side of cancer but struggling to get across. When I received the call to say that there was a spot for me I began to cry and knew this was my nudge to get to the other side. I came across a quote the other day and it has stuck with me: "Where you are is more important than where you think you should be."