Let's Talk Recurrence - Live Panel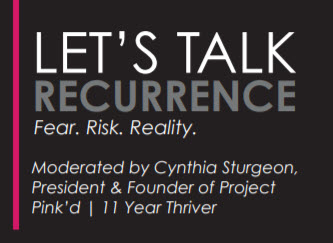 Have you ever wanted to have a discussion with your entire medical team in the same room? We understand. Please join us as Cynthia Sturgeon, 12-year Survivor and President of Project Pink'd, moderates a live panel discussion of 6 distinguished medical experts panelists in our community on the very important topic of Recurrence.
We will discuss the fear, risks and reality of recurrence. Most important, YOU will be able to join the conversation and ask your own questions and get the answer live from our panel of experts.
We encourage you to invite your caregiver/s and loved ones to this complimentary event.
Registration is REQUIRED.