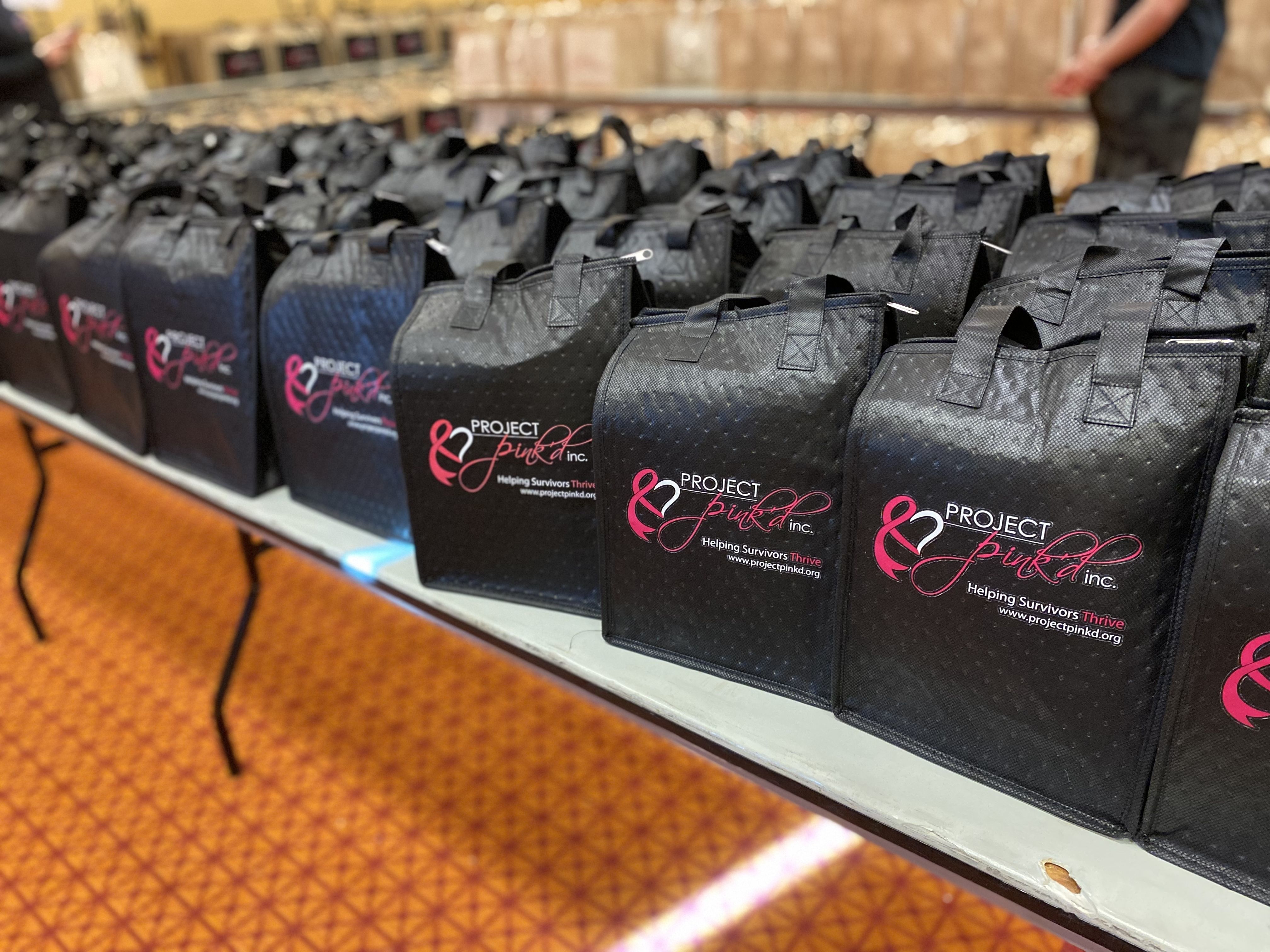 On Saturday, February 19, 2022, a group of over 60 dedicated and enthusiastic volunteers put a months-long plan into action by compiling and delivering almost 1,000 Healing Hearts Kits. On Monday, February 21st, these kits were distributed by more volunteers to clinics and doctors' offices across Nebraska and Western Iowa, for doctors and nurses to pass along to their breast cancer patients.
What goes into a Healing Hearts Kit? First, generous donors provide funds for Project Pink'd to purchase robes, neck pillows, blankets, lotions, shampoos, and other comforting items for breast cancer patients going through surgery, chemotherapy, or radiation. A breast cancer survivor preparing for surgery will receive a drain pouch belt that makes it much easier to deal with drains that are inserted during surgery. During chemotherapy appointments, a blanket is provided to keep our survivors warm during treatments. Radiation kits include special lotions and oils that help in alleviating the side effects of treatments. Volunteers putting together these kits on Saturday shared numerous stories about how items in the kit met needs they wouldn't have known how to address if they didn't have the kit and explanations of the items. The desire to "pay it forward" was evident among all the volunteers who assisted in the entire process.
The story of a Healing Heart kit really begins when a newly diagnosed breast cancer patient receives this bag of specially chosen items topped off with a personal, encouraging note from a fellow survivor. Details of treatment vary from person to person, yet the shock and fear of what's next are lessened when a kit is opened and the recipient knows that they are not alone in this journey.
None of these success stories would be possible without the generosity of donors in our community. One example of this generosity is Terri Winslow, a survivor and employee of HDR (an Omaha engineering design firm), who was able to secure a $30,000 grant through HDR that covered the entire cost of all 200 radiation kits. That represents 200 breast cancer survivors whose side effects of radiation can be eased when applying oil or lotion on radiated skin.
The sense of appreciation among Pink'd staff is deep and strong. It's hard to fully express what it means to see all the support that goes into these kits, and then to hear stories of the positive impact the kit had on the recipient. Project Pink'd founder, Cynthia Sturgeon, expressed her sincere appreciation for the donors and volunteers who gave their time, talents, and/or funds to make the kits a reality. Penny Thomas, Healing Hearts coordinator, also shared via Facebook Live her deepest appreciation for the support of our Pink'd community. Volunteers of all ages and stages gathered for one purpose, and that was to make life easier for breast cancer survivors as they go through a rough patch in their journey.