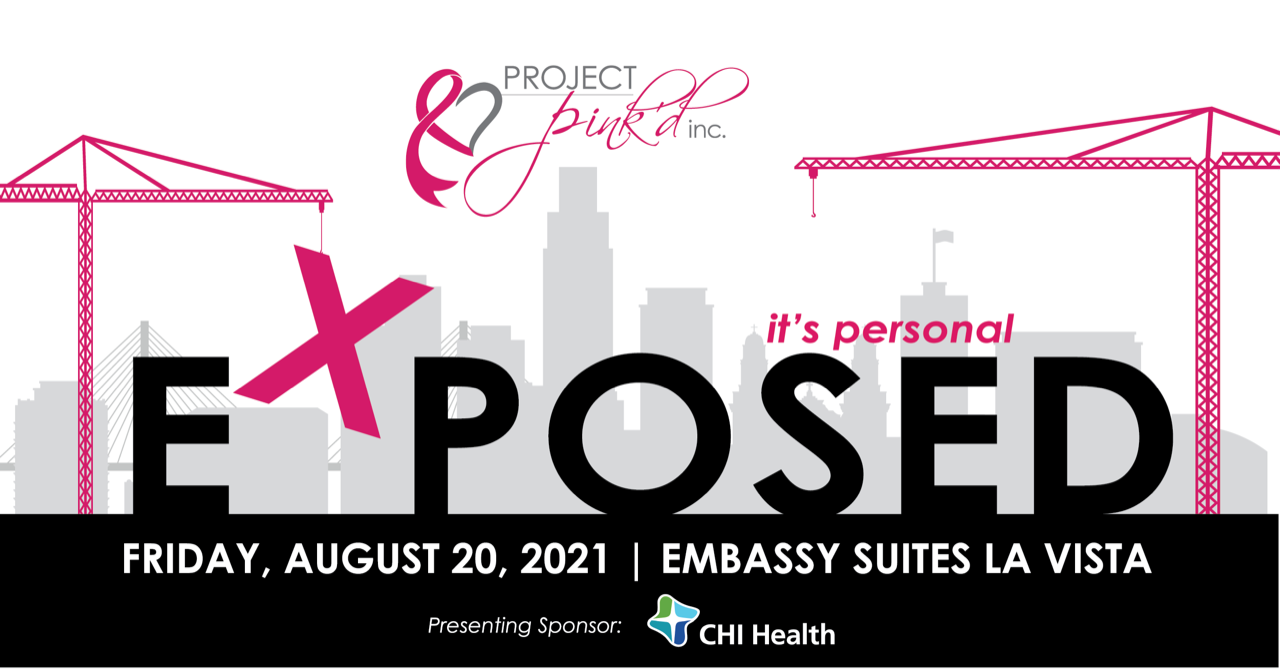 When Project Pink'd, Inc. was founded in 2010 by Cynthia Sturgeon, she had a vision to create a local organization that filled the gaps and provided support for breast cancer survivors after a diagnosis. Exposing the real issues survivors faced after a diagnosis and using her personal experiences to help others more easily navigate through the challenges, Cynthia's vision became a reality. Thousands of survivors' lives have been impacted by the compassionate survivorship programming and services and local network of support Project Pink'd provides each day. Despite the challenges faced this year, Project Pink'd continued to stay true to their mission, keeping breast cancer survivors at the heart of Project Pink'd and serving over 5,500 survivors in Nebraska and Western Iowa.
For the third year in a row, Project Pink'd is proud to announce CHI Health as the Presenting Sponsor for their upcoming EXPOSED Annual Benefit.
"A breast cancer diagnosis can feel scary and overwhelming. At CHI Health, we take pride in offering women the most advanced technology in breast cancer -- but we know there are other elements to providing the very best care. Breast cancer treatment and options start with having the right team behind you in the right place. Our experts walk alongside our patients -- both women and men -- from the point of their diagnosis to planning their treatment. We've built a program designed to support patients through every step of their journey. Our goal is to make sure no one ever feels like they're walking alone."
"The breast cancer cause was close to my heart even before I was diagnosed. Both my mom and grandmother died from the disease. I spent years fundraising to help women fighting breast cancer and then in December 2015, I received my own diagnosis of triple negative breast cancer – one of the most aggressive types. I never thought I would have my own journey, but I am grateful for the care I received through CHI Health. Because of that care and the support around me, I'm now at five years survival! It's my wish that all women diagnosed with breast cancer have access to the same opportunities and care I did," stated Kathy Bressler, Senior Vice President and Chief Operating Officer for CHI Health.
Plans are being constructed for the Project Pink'd 12th EXPOSED: It's Personal Annual Benefit, to be held at the Embassy Suites La Vista on Friday, August 20. Tickets go on sale at 8am on Monday, June 7, 2021 at projectpinkd.org.
Honoring Our Past. Building Our Future. Supporters will come together to build a community of Thrivers as Project Pink'd honors & celebrates those diagnosed with breast cancer at the biggest fundraising event of the year. Tools for a memorable evening include signature Pink'd martini's & hors d'oeuvres, live & silent auction, Gifts of Hope and Survivor Celebration. Plus, Project Pink'd has been laying the foundation for 20 Thrivers under construction, and attendees be the first to see the unveiling of their project of the year. Embracing the What's Raised Here Stays Here philosophy, all proceeds from the evening will directly benefit survivors in NE and Western IA, providing critical services and support.
"We welcome CHI Health's continued role and increased support for our mission as Presenting Sponsor for our annual fund-raising event. It is vital to our success in helping survivors that leaders in our community, like CHI Health, validate our efforts through their support. We will continue providing services to survivors in our community so CHI Health and all our sponsors, supporters and volunteers are proud of what we accomplish together," said Cynthia Sturgeon, Project Pink'd Founder and President.