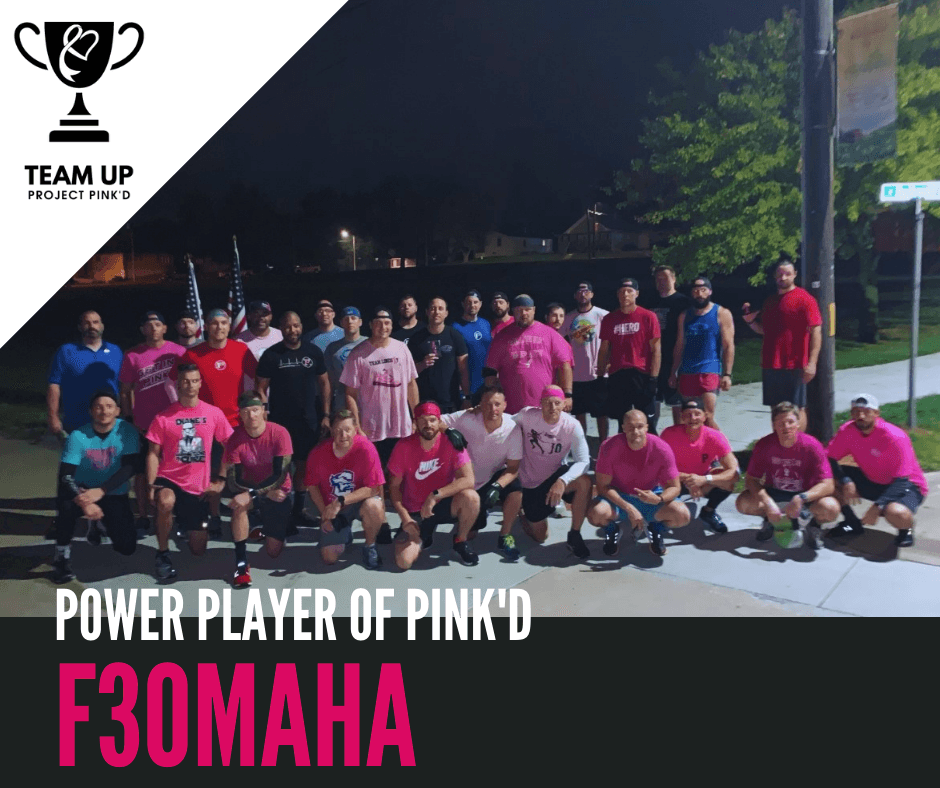 A community that supports one another thrives together. And supporting local survivors builds stronger families, workplaces and communities. During the month of October, dozens of organizations have rallied around the Project Pink'd mission, hosting a variety of fundraising activities to support the survivors they serve. F3Omaha has taken a unique approach, creating a friendly competition between various workout sites. Their efforts have prompted Project Pink'd to launch TEAM UP. Fundraising for champions, this initiative allows for co-workers, teammates, family members or school rivals to compete and make a big difference in the community. 
"Inspired by community members, F3 members and their families thriving in the fight against breast cancer, the members of F3Omaha are collaborating as allies with Project Pink'd to drive awareness and fundraise in the spirit of a principle we believe in called "living third. During BCAM, for the month of October the men of F3Omaha will be campaigning and competing to raise funds across various workout sites in the Omaha Metro leveraging social media campaigns, word of mouth and "pink out" events to encourage awareness and support. F3Omaha launched our campaign on Oct 1st in Springfield Nebraska and look forward to raising awareness for the entire month until the November 6th final event which will include a "Pink'd out" Bootcamp style work out, 5k Pre-run, and fellowship including naming the winner of the fund-raising completion in the benefit of Project Pink'd," said Dee Humm | F3Omaha.
About F3: Started in 2011 in Charlotte, North Carolina, F3 has grown to more than 30 states and 2,000+ scheduled workouts a week through the volunteer efforts of men whose lives have been changed by their involvement with the group. F3 was launched in Omaha, NE on April 21, 2018, currently with over 1,500 members from our community. The three Fs in our name stand for Fitness, Fellowship and Faith — the last of which we define as not one specific religion or faith system, but simply a belief in something outside oneself. F3 is free of charge, open to all men, always outdoors, peer led in a rotating fashion and each workout ends in a circle of trust. https://f3omaha.com/
Interested in team fundraising for Project Pink'd? Game on. Our TEAM UP playbook will help you get started. Contact info@projectpinkd.org for more information.